This is a short 3-minute guide for absolute beginners on how to create a fantastic Instagram profile that will perfectly reflect your brand and attract new followers.
Please note this post may contain affiliate links. Please refer to my disclosure for more information.
Let's start by looking at some of the very basics.
Basic recommendations when creating your Instagram profile for your business
Your Name. Remember to add your first name to your profile page. This is different to your user name. This is the Instagram name that appears at the start of your profile description – I've circled it below so you can see what I mean. It's really important to add your real name as followers will be reassured that you are a real person behind a real brand. It will help them get to know you.
Remove privacy barriers. Be careful when creating your profile that you set it to public, not a private account. Private means people have to request to follow you before they can see your Instagram page. You don't want that if you are using Instagram as a marketing tool, so make sure it's set to public.
Sticking to Instagram Terms of Use. A fairly obvious point, but do make sure your profile doesn't break any of Instagrams Terms of Use. If you need to read them, they're here:

https://help.instagram.com/478745558852511</span>

Avoid just linking to your website homepage; link to a strong, high-converting page instead (like an optin page, or your most popular product). Make sure you take 5 minutes to sign up to this free tool to work out the best link to add to your profile
General rules about making your Instagram account attractive
Like any social network, your Instagram profile publicly reflects your personal brand. Make sure you do it justice by ensuring that the tone, color scheme, design, and wording is all a perfect and accurate representation of who you are and your brand. Keep it consistent with other areas on the web your brand is at the forefront: your website, Facebook, Twitter, email.
Choose an Instagram business account. Always keep your business account separate from your personal account too, as this is going to help you strengthen your brand.
Maintain a theme throughout your profile and the content you post. A theme is really about having a common strand that weaves itself throughout all your Instagram content. It should make the overall presentation of your content and profile on Instagram beautiful and professional. It doesn't have to be entirely uniform, but it should have enough consistency that when someone sees a post from you, they immediately recognise it's one of your posts. Having a good theme is about taking the time to post high-quality content, and you should ensure that same high quality is presented in your profile too.
Profile name (username)
Ideally, your username should be the same as your brand's business name, or your website name. Avoid using random characters or numbers in an attempt to create a unique Instagram username. Instead, come up with something that is easily recognisable, memorable and different. For example. thebellyfatbuster is better than weightloss634254.
When you follow someone, they will get to see your account in their notification screen, so your username is the first thing you are going to see. For that reason, it's always going to work in your favor if you can incorporate a relevant keyword into the username, so that daily users to your profile can instantly understand what you do even before they have clicked on your link. Other usernames that work well include ones that have an authoritative word in them such as "guru", "expert" or "coach". You can even benefit simply by putting "the" at the start for a unique username, e.g. thebellyfatbuster is a far strongly, more authoritative name than just bellyfatbuster.
Before starting your account, do some brainstorming. And don't forget to do some research on Instagram too; usernames have to be unique.
Profile picture
Your profile picture should be either you or your logo. Remember that people are using Instagram on a very small screen so simplicity works best. A striking Instagram profile photo, authentic personal photo or bold company logo are likely to stand out better than a complex picture that contains words, taglines, or you in the distance. Similarly, group photos are too hard to see on a small screen. Remember that a good photo matters.
Description
At the time of writing, you get 150 characters for the description in your Instagram bio. Not much, so choose your words carefully.
First impressions count. A good description is one of the first things people see. It is an informative bio that gives users a clear understanding of what you do and how you can help them. If you aren't sure how you want to present yourself, do some research into your target audience to get a feel for what they expect to see. Experiment, as you can always use the edit profile option later if you need to change it. Research other accounts in your niche to see who has the best Instagram profile and what makes it so appealing. Avoid going for boring sentences describing the services you offer. Instead, talk about what benefit you offer to your customers. For example:
I am a weight loss expert >> boring
I help yo-yo dieters break the cycle for good in under 30 days >> Clear, obvious benefit
You'll notice that the latter is also much more specific about who it's aimed at. This is really important. You need to do some work to understand the type of customer you are targeting, and ensure your profile is worded in such a way that it is really clear to followers who your account is for. After all, if you want to be a successful business, you should never target just anyone .The more laser-focused you can be, and the better you can word this in your profile description, the better.
Link
Instagram is one of the few social media platforms that doesn't allow clickable links in post. So, your only clickable link on the entire platform is in your profile. But it's one of the easy ways to get extra traffic, so don't ignore it.
Always link to your opt-in page if you want to use Instagram to build your email list. If you sell product, link to your current promotion or offer.
Just like your username, your URL should be short, easy to remember, and easy to understand. Don't use a random string of characters, and avoid URL shorteners such as bit.ly. People find it unfriendly and are less likely to click on it. Always test the URL to ensure it's working correctly, and if you have trouble, contact the Instagram help center to resolve it. Use a trackable link so you can monitor your traffic from Instagram. Try and use a URL that is so clear to understand that people know the exact page the link will be taking them to, for example, thisisyoururl.com/freeguide rather than thisisyoururl.com/guide654
Top tip: I'd highly recommend using a free tool like this one because it's designed to boost your Instagram traffic, and it's a great way to test multiple offers to your audience first to see which one resonates the most. It will also help you track the number of clicks you are getting which is going to give you some really useful feedback about how well your profile is actually working.
Instagram Stories
The Instagram stories you add to your profile are like a tasting menu. They help potential followers decide if your Instagram content is right for them. So make sure it accurately reflects your content, brand and makes you look interesting.You'll also want to make sure you pin some high-quality photos or Instagram reels to the top of your feed.
A Professional Profile Can Make All The Difference
It almost seems overkill to write an entire blog post on how to write a 150 Instagram profile, but having a strong profile can really make a difference to the number of people who choose to follow you, and whether or not they opt-in to your email list. So it pays to spend time in advance getting this right to woo those potential customers.
Bonus Tip – How to Build Your First Sales Funnel
Once you have a fantastic Instagram feed up and running, now's the time to start thinking about growing a high quality following and start making sales for your business. You can access our free Smart Funnel guide by entering your email address below, and discover how to create your first sales funnel for your small business.
What To Read Next
Find out my top 5 marketing strategies for Instagram
Here's a must-know technique for Instagram that you probably haven't tried before
Summary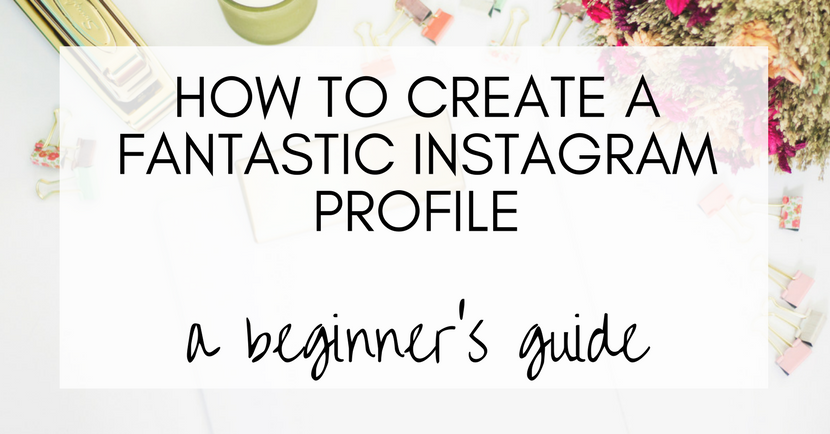 Article Name
How To Create A Fantastic Instagram Profile: A Beginner's Guide
Description
Revamping your Instagram profile makes a huge difference to how fast you'll grow it. Here's a beginner's guide to getting that profile Insta-perfect
Author