If you're a coach (or planning to start a business as one) and are in the midst of building an Instagram profile for your business, then now is the time to get inspired! A great Instagram profile can bring you lots of high quality business leads. You just have to know a few tricks to get you started. So, with that in mind, I thought I'd share with you some of the inspiring coaches who are currently winning at the Instagram marketing game. There's so much to learn from these superstar life coaches and it should give you a lot of ideas about how you can stand out with your own feed and connect with your audience so make sure you bookmark this page as you'll want to refer back to it.
Ready? Let's get started and get you on your way to creating your own Instagram superstar profile. If you haven't much time to spend browsing Instagram, this guide is your shortcut. Whether you want to get clients or simply post some inspirational quoets, take a leaf out of these coaches' efforts to get noticed and you're sure to go far.
(These are in no particular order, by the way).
Disclosure: This post contains affiliate links, which means I may receive a small commission, at no cost to you, if you make a purchase through a link. For more information on how I use these on my website, visit my disclaimer here
Inspiring Coach #1: Hilary Rushford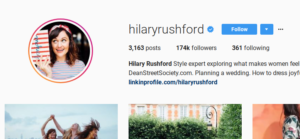 Who they are: Style coach, founder of Dean Street Society
Why their Instagram feed is so great: Upbeat, cheerful, high quality photos, and engaging interactive posts with hugely engaged followers
Be inspired by: The motivational messages to her followers that she adds to her post captions
Inspiring Coach #2: Emily Williams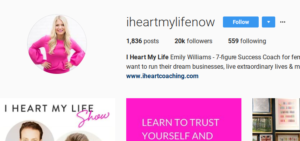 Who they are: Success coach, for female entrepreneurs
Why their Instagram feed is so great: She shares a lot of images relating to her professional life and the networking events she runs across the globe so it feels very much like a community on her feed, as well as lots of inspirational coaching to motivate you
Be inspired by: Gorgeous images from glamorous city locations; a reminder of some of the more luxurious rewards at your fingertips when you start your own business and reach your full potential!
Inspiring Coach #3: Marie Forleo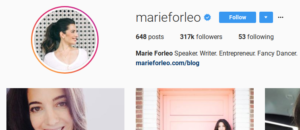 Who they are: Life and business coach, well known for her popular YouTube television show
Why their Instagram feed is so great: It's not as slick as you'd imagine from this high profile coach with some well-established online courses. Marie is know for her hard work: and this feed shows unedited selfies are interwoven with professional shots and big motivational messages. She also has behind-the-scenes footage featuring team members from her dedicated staff. The result is a very accessible, real feed
Be inspired by: Powerful, punchy messages that will get you in gear to push your business forward
Inspiring Coach #4: Sue Zimmerman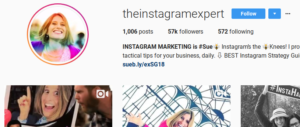 Who they are: Instagram strategy coach
Why their Instagram feed is so great: It bucks the pastel trend with bright, popping colors and a cheerful, energetic vibe
Be inspired by: The most interesting thing about her feed is the quirky fun images, which prove you don't have to do the same as everyone else to make an impact on Instagram
Inspiring Coach #5: Danielle LaPorte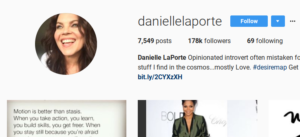 Who they are: Author of The Desire Map
Why their Instagram feed is so great: Full of calm, reflective thoughts and great messages that will help inspire you on a daily basis, with links to some exclusive content
Be inspired by: Danielle's ability to get her message across quietly is beautiful and shows you don't have to be "shouty" on social media to make an impact
Inspiring Coach #6: Jasmine Star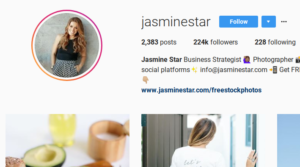 Who they are: Business coach, with a focus on social media
Why their Instagram feed is so great: She has a beautiful, fresh, clean looking feed showcasing her own lifestyle mixed up with motivating messages for entrepreneurs
Be inspired by: Her smart use of tagging people, places and niche hashtags
Inspiring Coach #7: Jenna Kutcher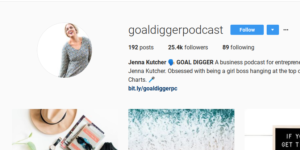 Who they are: Hosts a business podcast for entrepreneurs
Why their Instagram feed is so great: A pretty, well thought out feed of great images that she combines with captions linking back to her podcast and webinars
Be inspired by: Engaging her audience and encouraging them to like and comment on her posts
Inspiring Coach 8: With Grace And Gold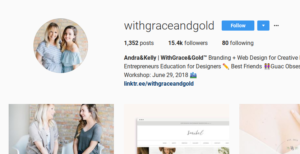 Who they are: Andra and Kelly, branding and design experts
Why their Instagram feed is so great: Their expertise in design shows when you go through their beautiful feed, which does a great job at showcasing their design talent
Be inspired by: Their #moodboardmonday posts – a great example of how to do hashtags well
Inspiring Coach 9: Bonnie Bakhtiari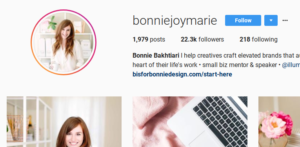 Who they are: Small business mentor and online coach
Why their Instagram feed is so great: It looks polished and professional, but it still has enough personality to feel like you can connect with her as a follower – that's a great balance to achieve
Be inspired by: She likes to throw in a few personal posts with pictures of her pet dog
Inspiring Coach 10: Megan Martin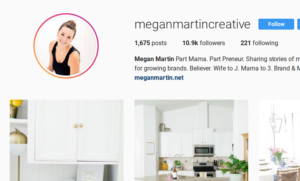 Who they are: Mompreneur and branding coach
Why their Instagram feed is so great: Her pictures are relatable and aspirational, sharing pictures of her family together with practical business guidance for mompreneurs
Be inspired by: She includes adorable pictures with her children, posted with #themompreneurdiaries hashtag
Inspiring Coach 11: Abagail and Emylee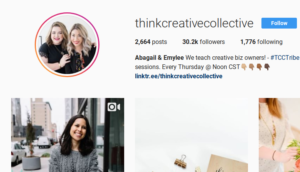 Who they are: founders of Think Creative Collective, coaches for small business owners
Why their Instagram feed is so great: It's a mix of pastel flat lays for asethetic and fantastic media showcasing their strategy hour show with other entrepreneurs – lots of value to be found by following their life coaching feed
Be inspired by: They post success stories and interviews with small business entrepreneurs
Inspiring Coach 12: Nesha Woolery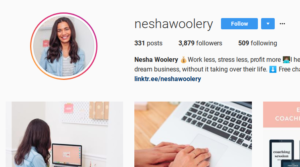 Who they are: Business coach for creatives
Why their Instagram feed is so great: A good mix of images from some critical moments in business, video (talking straight to camera, which is the best way to connect with your audience) and inspiring messages.
Be inspired by: She refers back to her blog posts and videos – encouraging people to click off Instagram and discover more about her including. tips on how to win your first client
Inspiring Coach 13: Jessica Nazarali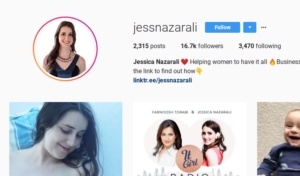 Who they are: Well known business coach for female entrepreneurs
Why their Instagram feed is so great: Another good example of mixing the personal with business, Jessica has intimate posts of her young family together with promotional posts showcasing her interviews with other entrepreneurs and some of the best coaches around
Be inspired by: Her inspiring quotes from entrepreneurs she's interviewed on her radio show
Inspiring Coach 14: Noor Hibbert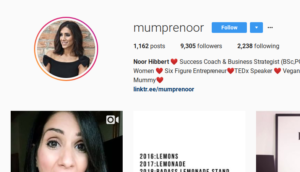 Who they are: Success coach and business strategist
Why their Instagram feed is so great: An outgoing and upbeat Instagram feed that's sure to list your spirits and give you motivation to set goals. She offers punchy, fun messages and quote posts, plus images from her own life
Be inspired by: Her slightly-genius and highly memorable Instagram name (memorable Instagram names are a great asset)
Inspiring Coach 15: Tony Robbins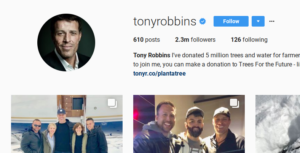 Who they are: World-renowned life coach and motivational speaker
Why their Instagram feed is so great: Tony is well known as a motivational coach and keynote speaker. In fact, lots of people have commented on this post to say he should be at the top (author note: these 20 aren't in any order!). What's great about his IG feed is that he goes beyond his most well-known area of expertise and uses it to promote his charitable cause, Trees For The Future, showing the importance of making an impact for the greater good. The feed itself is inspiring, fascinating and features huge doses of motivation.
Be inspired by: He writes about the story behind every image he posts – and they are a joy to read
Inspiring Coach 16: Nathan Chan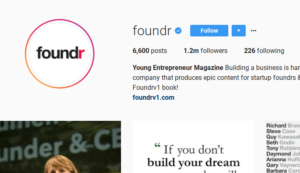 Who they are: Instagram expert and founder of entrepreneurial magazine Foundr
Why their Instagram feed is so great: Bold, simple and hugely successful (I have talked about his case study for growing his Instagram account in this post) – this is a model that a lot of newer Instagram feeds have tried to emulate, but Nathan still leads the way
Be inspired by: His consistent branding of "Foundr" on every post
Inspiring Coach 17: Gary Vaynerchuk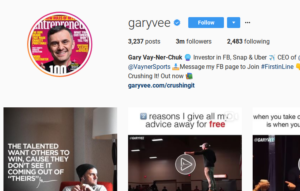 Who they are: Best selling author, social media expert
Why their Instagram feed is so great: It's packed full of inspiring video clips – he covers a lot on mindset, and he's a great expert to learn from, especially for helping boost your social media accounts
Be inspired by: His no-nonsense messages. He doesn't sugar-coat it
Inspiring Coach 18: Ramit Sethi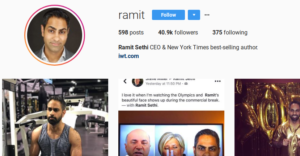 Who they are: Success and business coach, Serial Entrepreneur, TedX Speaker
Why their Instagram feed is so great: One of the great things about some of the IG feeds of top coaches is that they don't always contain highly polished posts. Some are simply screenshots of a tweet. Despite that, the posts are highly effective at getting his message across to his target audience about personal growth and entrepreneurship.
Be inspired by: He posts screenshots of emails by people who were inspired by him – show, don't tell
Inspiring Coach 19: Zoe Bright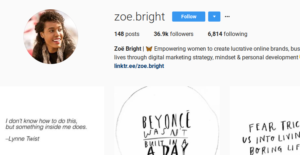 Who they are: Business coach for female entrepreneurs
Why their Instagram feed is so great: Clean, bright and full of personality, and it feels like a positive experience from the start. Zoe has taken the time to put together a consistent feed with great color and design that suggests a strong brand
Be inspired by: She adds cute and short quotes that are great when they pop up in your Instagram feed
Inspiring Coach 20: Kaylie Simmone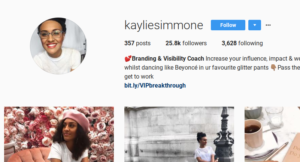 Who they are: Branding and visibility coach
Why their Instagram feed is so great: stylish shots from locations around the world, she places a big emphasis on being the modern, global, location-independent entrepreneur
Be inspired by: Kaylie asks simple, easy questions to her followers, encouraging comments and engagement
A Couple Of Takeaway Points
One thing you have probably noticed from this list is just how different these feeds are. Don't be afraid to do something out of the ordinary. What these feeds all have in common is that they really reflect the personality and brand of the entrepreneur themselves. Remember that fact when you put together your own Instagram account.
Here's another tip for you: Your feed doesn't have to be perfect. In fact, some of the more endearing and interesting posts from these entrepreneurs are the ones without the gloss. Maybe it just makes these entrepreneurs easier to relate to. That is critical on social media. Remember: you are a stranger to your audience. Instagram is a great way to grow closer.
Bonus Tip – How to Build Your First Sales Funnel
Now's the time to start thinking about growing a high quality following and start making sales for your business. You can access our free Smart Funnel guide by entering your email address below, and discover how to create your first sales funnel for your small business.
What To Read Next
Bossbabes have just released this free training on how to get more sales on Instagram – definitely worth a watch!
7 must-read case studies on how to grow a large Instagram following
11 types of content that work great on Instagram
Pin This Post to Read It Later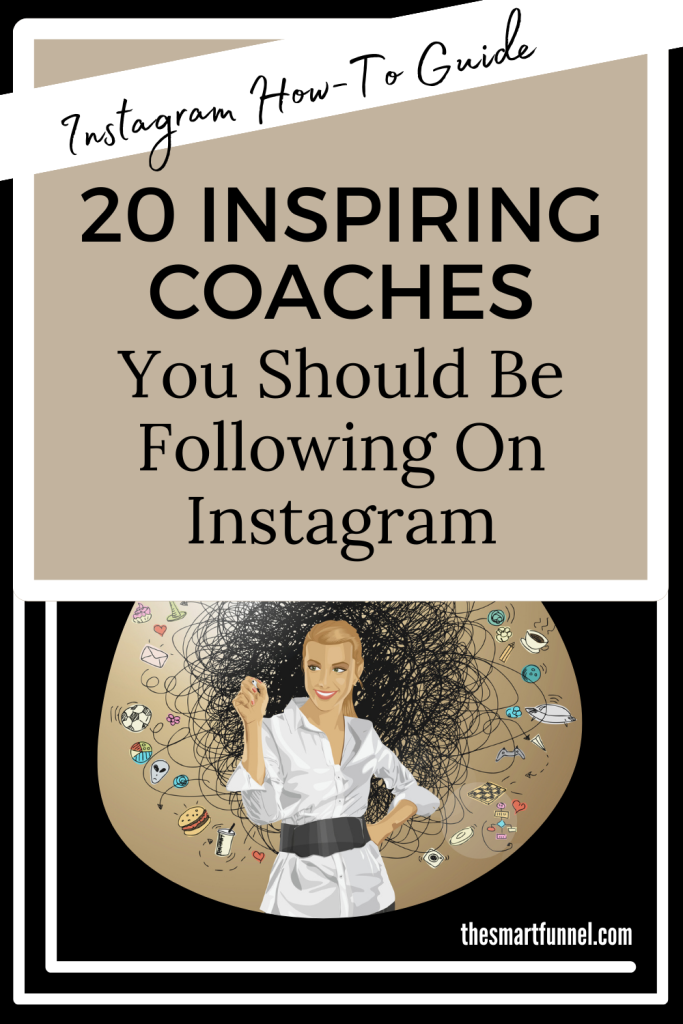 Summary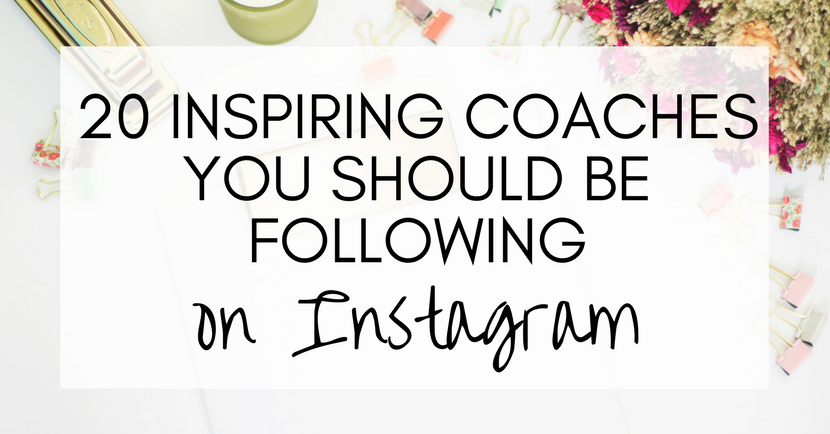 Article Name
20 inspiring coaches you should be following on Instagram
Description
The most inspiring coaches on Instagram! Learn how these entrepreneurs, business and life coaches use Instagram to promote their brand.
Author